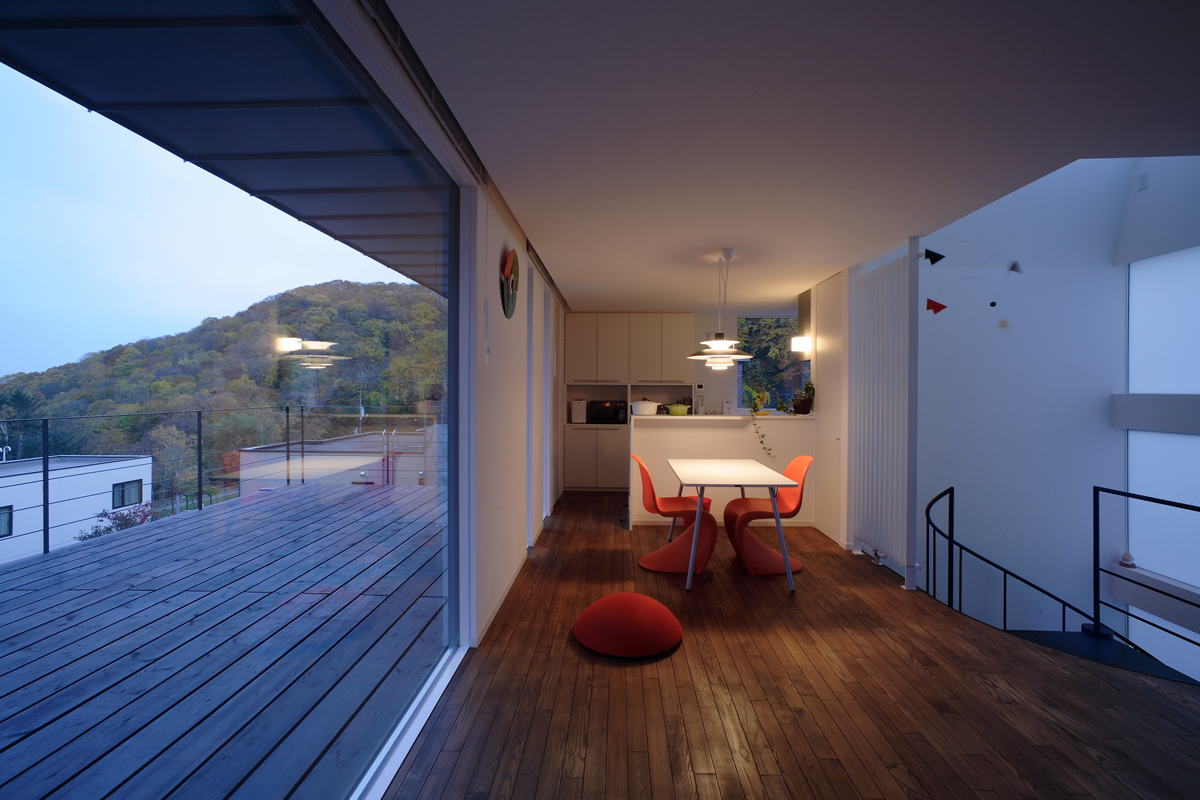 テンボウ・ノイエ
藻岩山中腹に建つ住宅である。クライアントはこの敷地からの眺めを期待して土地の購入を決めた。ここから札幌の中心部を間近に望むには、建物にある程度の高さが必要なのだが、この地域に3階建ての建物を建てることは法律上の制限から難しいことだった。そこで敷地の急傾斜を利用して建物の一部を地面の下に埋め込み、地下室とし、その上部に2層分の木造建物を載せる形状とした。つまり法律上は2階建ての建物である。このような建物構成から必然的に最下階は窓が少なく、やや薄暗いスペースになる。一方で最上階にはクライアントが強く期待する眺めの良い大きな窓が必要で、必然的に明るいスペースができあがる。我々はこの上下にできる「明るさの差」を、3層を貫く力強い螺旋階段で繋げようと考えた。窓の数や大きさ、方位をよく検討して階段周囲に配置することによって、螺旋の昇り降りと、明るさや光の質感のグラディエーションが連動する。つまり、やや光を絞った最下階から階を登るごとに光の量が増幅して、最上階にたどり着くと街の景色がパーッと眼下にひろがるという仕掛けである。我々はこうした単純な仕掛けによって建物の中にいろいろな場面やストーリーが盛り込まれることによって生活が楽しく豊かなものになると信じている。ここで言うストーリーとは表面仕上げの良し悪しなどに左右されるようなものではなく、もっと単純で普遍的な「光」だったり、「空気」だったり…、外の環境と建物が、どんな関係を持つのかによってつくられるものだと我々は考えている。
幸いなことに、こうした外の環境というものは無料で、流行に左右されず、それでいて変化に富んで、同じ場面を作らない、優れた演出家なのだ。

This is a house built in the halfway up a mountain of Mt. Moiwa. The client purchased this land expecting the view from this site. Some height was necessary for the building to be able to have close view of city centeral of Sapporo, although it was difficult from legal restriction to build the building of three stories in this area. Therefore, the part of the building was buried under the ground using the steep slope used as a basement, and two levels of wooden structure was built on top of it. Therefore, the building is legally two stories high. From its structure, a bottom floor has few windows, creating the space slightly dark.
Meanwhile, the top floor becomes a naturally bright space, having large windows with a view meeting the client expectations. We decided to tie the "different levels of brightness" with a spiral staircase through three levels. Considering the number, the size, and the direction of windows carefully, the windows were arranged around the stairs to make the gradation of brightness and quality of the light synchronize the different levels as you go up and down the spiral. In other words, when you start from the lowest level slightly dark, the amount of light amplifies as you climb up the stairs. And when you reach the top level, you will have a great view of town right in front of you.
We believe that life can become more enjoyable and rich by various scenes and stories incorporated in the building by such a simple mechanism. The story mentioned here is not something that can be influenced by the qualities of surface finish, but can be created by the relationship between the building and its outer environment, simple and universal aspects such as "light" or "air". Fortunately, such outer environment is free of charge, cannot be controlled by the fashion, full of variety and keeps changing its scene. It is the excellent stage director.
撮影:酒井広司  Photo: Koji Sakai